Garage Organization Tips and Tricks
July 17, 2018 10:57 am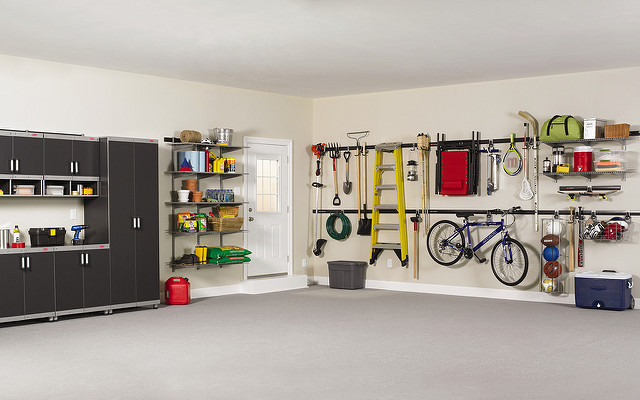 If you're like most homeowners, your garage is probably filled with more items than just your car. One study claimed 1 in 4 Americans can't fit their car in their garage due to clutter!
Fortunately, you can quickly get your garage back on track in just a weekend for less than a few hundred dollars. Check out Ventana's garage organization tips and let us know your organization solutions over on our Facebook page!
Make Time
It might seem like a no-brainer, but the first step on the path to garage organization is setting aside enough time to accomplish the task. Plan out at least a day, if not a weekend, to sort everything inside into three main piles: Keep, Donate, Toss. Use boxes or tarps to corral these items and make it easier to take a visual inventory.
Struggling to decide what to toss? A good rule of thumb is if you haven't used it in two years or more, you can likely let it go. Broken tools, expired chemicals, old toys the kids don't use are just a few examples. Also, be sure to check for recycling symbols before you throw something in the dumpster and visit the City of Fort Worth's recycling page for more information.
After you've dealt with your toss pile, take the donate pile to a charity or plan your yard sale as soon as possible. The longer you wait, the longer your garage will remain cluttered with stuff you don't need.
Design Zones
Now that you've gotten rid of the junk, you'll want to plan where you're keeping the remaining items. Divide your garage into "zones" designated for specific purposes. For example, a lawn equipment area, a space for athletic equipment, shelves to keep tools organized and within easy reach, a bin for auto accessories, etc.
It doesn't matter if you have a two- or three-car garage, going vertical will help you maximize space. Use modular hooks to hang bikes, larger tools, and athletic equipment. Install shelves to help get boxes off the ground and utilize clear plastic bins to help keep track of what's inside. A mounted pegboard is also another versatile way to hang and display tools.
Garage Organization Year-Round
Now that you've achieved your dream garage, you don't want to slip back into old habits. Keep all items off the ground to avoid piles that take up valuable space. Hang a broom or handheld vacuum with your tools to help you tidy up after a big project. Cat litter is another useful item to keep in the garage for soaking up grease spills. Taking pride in your garage will motivate you to keep it clean and decluttered all year long.
Maybe your current garage situation is less than ideal. Located in southwest Fort Worth, Ventana's three acclaimed builders offer open-concept home designs with the storage you need, including select floorplans with three-car garages! Learn more about our builders on our website or make your way to our community off I-20 at Chapin School Road. There are currently three model homes available to tour and several quick move-in homes ready now.

Tags: Fort Worth, garage, garage organization, home design, organized garage, Ventana, Ventana TX


Categorised in: Home Design