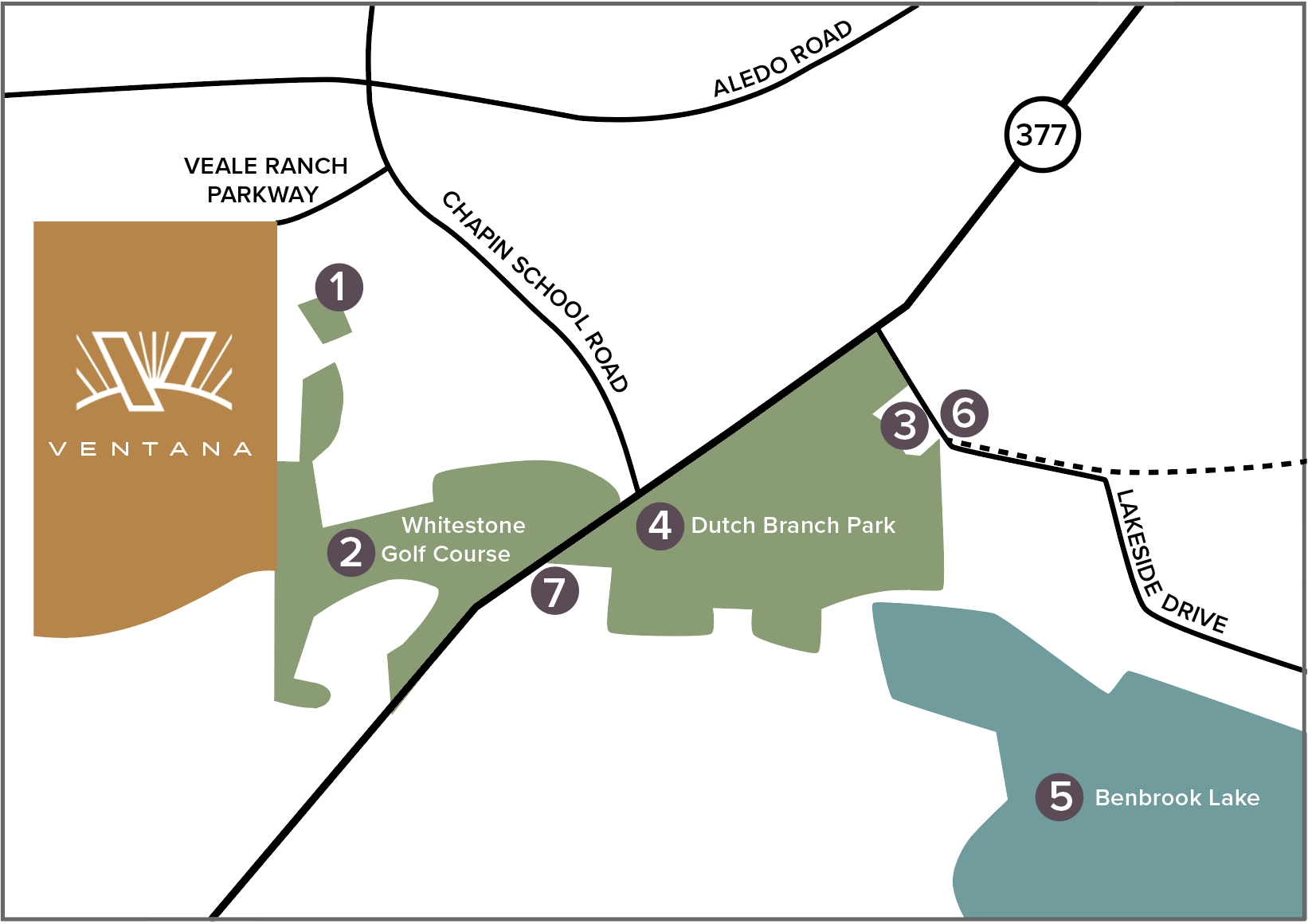 Printable Local Amenities Brochure
1
Rolling Hills Park. The newly-constructed Rolling Hills Park, located just ~600 feet from Ventana, offers a jogging trail, pavilion, picnic tables, a sand volleyball court, shaded playground equipment, outdoor exercise equipment, and a half-court basketball court.
2
Whitestone Golf Course. A 7,117-yard, par-72 Jeff Brauer-designed course open to the public. Whitestone is built on a beautiful hilly tree-covered property carved out of 150 acres of rocky terrain, resplendent in cacti, yucca and huge native oak trees. Future phases of Ventana will share over 2,500 feet of common property line with this fantastic neighborhood amenity.
3
Benbrook YMCA & Athletic Complex. Completed in 2010, the Benbrook YMCA and Community Center offers a large variety of activities for all ages including a gym and fitness center, youth sports, personal training, youth camps and childcare, swim lessons, private birthday parties and fun-filled family nights and events.
4
Dutch Branch Park. Benbrook's central, featured park facility with amenities including: Castle Park Playground, Robot Park Playground, walking track, two lighted sand volleyball courts, tennis courts, basketball goals, soccer fields, baseball and softball fields, duck pond, pavilions and picnic areas with grills.
5
Benbrook Lake. A 3,600+ acre public lake that has six public parks, public camping grounds, great fishing, excellent birdwatching, hunting, boating, horse trails and hiking.
6
Trinity Trail System. Over 40 miles of trails along the Trinity River and its tributaries for walking, running, cycling or on horseback. The trail networks connects with 21 parks, the Fort Worth Botanic Garden and Japanese Garden, Log Cabin Village, Fort Worth Zoo, the historic Stockyards and downtown Fort Worth. The nearest trailhead is located just 2 miles from Ventana!
7
Benbrook Stables. A full service, family oriented equestrian center. Located on 100 acres on Lake Benbrook, Benbrook Stables offers public trail rides, horse riding lessons, horse training and boarding, roping, barrel racing, arena rental, weddings, Girl & Boy Scout Badges, hayrides, family reunions and more